2011 ICare4Autism International
Autism Conference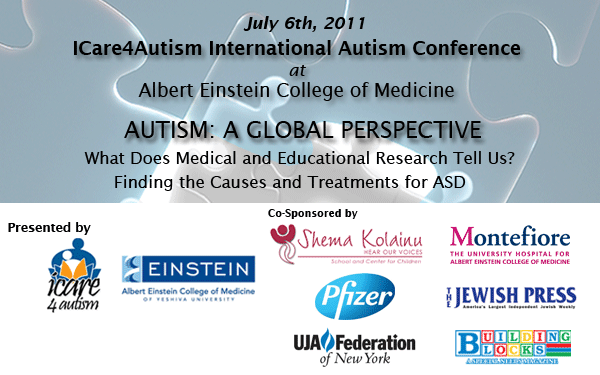 July 6th, 2011
8:30am - 4:30pm
Albert Einstein College of Medicine,
Robbins Auditorium 1855 Eastchester Rd
Bronx NY 10461
From the CEO of ICare4Autism, Joshua Weinstein, Ph.D., M.B.A.
On behalf of ICare4Autism, I extend a warm thank you to all who attended our ground-breaking International Autism Conference on July 6th, 2011. Following the overwhelming success of our last conference in July, 2010 in Jerusalem, we joined forces with Albert Einstein College of Medicine to host this years International Autism Conference in New York City. The conference was titled "Autism: A Global Perspective. Finding the Causes and Treatments for ASD. What Does Medical and Educational Research Tell Us?"
It was a gathering place for leading international autism researchers to work in collaboration, and converse about the latest autism education, research, treatments and best practices. It was sponsored by Albert Einstein College of Medicine and co-sponsored by Shema Kolainu-Hear Our Voices and Montefiore Medical Center.
​
Joshua Weinstein, Ph.D., M.B.A., CEO and Founder of ICare4Autism
What were the Benefits of Attending?
Listen to leading experts presenting the latest international research and developments in the field of Autism.

Learn practical approaches to supporting people with ASD.

Network with professional colleagues from around the world.

Get fresh information to help inspire families affected by an Autism Spectrum Disorder.
Who Attended
Education and teaching professionals

Psychologists, speech pathologists, occupational therapists and other allied occupations

Academics and students

Health Professionals, including pediatricians, psychiatrists, neurologists, geneticists, etc.

Chief Executive Officers, directors and senior managers who provide services to children and adults with Autism.

Families and care-givers of people with Autism.
​
List of Speakers
Welcoming Remarks:
Joshua Weinstein, Ph.D., M.B.A.ICare4Autism Founder & CEO, USA, Israel
​
Neuropsychopharmacology of Oxytocin and Inflammation in Autism
Eric Hollander, M.D. Clinical Professor of Psychiatry and Director of OCD and Autism Spectrum Program, Montefiore Medical Center and Einstein, Chairman of the Advisory Committee for ICare4Autism

Electrophysiology and Endophenotyping of Autism
John Foxe, Ph.D. Research Director of the Children's Evaluation and Rehabilitation Center (CERC) and Professor of Pediatrics and of Neuroscience at Einstein
​
The Locus Coeruleus/Noradrenergic Hypothesis of Autism
Dominick P. Purpura, M.D. Dean Emeritus, Professor of Neuroscience, Einstein
​
Epilepsy and Autism
Shlomo Shinnar, M.D., Ph.D. Professor of Neurology and Pediatrics, Hyman Climenko Professor of Neuroscience Research, and Director of the Comprehensive Epilepsy Management Center at Montefiore Medical Center and Einstein
​
Genetics of Autism
Robert W. Marion, M.D. Director of the Children's Evaluation and Rehabilitation Center (CERC) and Professor of Genetics, Einstein
​
Autism Genetics – from Molecules to Pathways
Brett S. Abrahams, Ph.D.Assistant Professor, Departments of Genetics & Neuroscience at Einstein

Leading a Campaign for a Better World for People with Autism
Mark Lever, Chief Executive, The National Autistic Society (NAS), UK

Intervention Targeting Development of Socially Synchronous Engagement in Toddlers with ASD: A Randomized Controlled Trial
Rebecca J. Landa, Ph.D., CCC-SLP Founding Director of Kennedy Krieger's Center for Autism and Related Disorders and Professor of Psychiatry and Behavioral Sciences in the Johns Hopkins University School of Medicine.
The Ecological Assessment of Executive Function in Autism; the Behavior Rating Inventory of Executive Function – Adult Version
Stefano Pallanti, M.D., Ph.D., Professor of Psychiatry University of Florence and at Mount Sinai School of Medicine, Director of the Residency Program at University of Florence Chair of the Consultation Psychiatry Unit
​
A Novel and Common Inborn Error of Metabolism Discovered in Autism Patients
Arthur L. Beaudet, M.D. Henry and Emma Meyer Professor and Chair Department of Molecular and Human Genetics, Baylor College of Medicine
​
The Welsh Government's National ASD Strategy (2008): What Can We Learn from the World's First Government Strategy for Autism?
Hugh Morgan, MMedSc OBE FRSA CEO Autism Wales & Expert Advisor for ASD to the Welsh Assembly Government, Cardiff, Wales